A person is trying to mislead the followers of Vitalik Buterin on Twitter to scam people via an attractive giveaway reward strategy. 
On 15 September 2022, Ethereum's most important upgrade work "TheMerge" was completed, as per the Google Ethereum Merge countdown.
Now, the developers of the Ethereum blockchain will work to introduce high scalability and efficiency in the network, and probably it will take more than a couple of years. At this moment, mining of ETH is no longer possible because the network is now operating on Proof-of-stake consensus. 
Now almost all the ETH miners shifted to mining Ethereum Classic (ETC) because ETC is a better option for the miners. 
However, here it will not be fair to say that electricity consumption will get down because all the Ethereum miners are still active in mining of other alternative crypto assets and consuming the same amount of electricity but here we can say that Ethereum (ETH) will no more remain on the radar of environmental health activists.
Today, Ethereum co-founder Vitalik Buterin informed his followers that 0.2% of world' electricity consumption will be reduced after this merge. 
ETH Merge Fake Giveaway scam 
In the present time, scammers are continuously active to catch innocent crypto investors. 
A blue tick verified Twitter account is promoting a website to give double ETH rewards against the deposit of a particular amount of funds. 
That Twitter account has a total of 1.1 million followers and it seems that he is Vitalik, but actually not.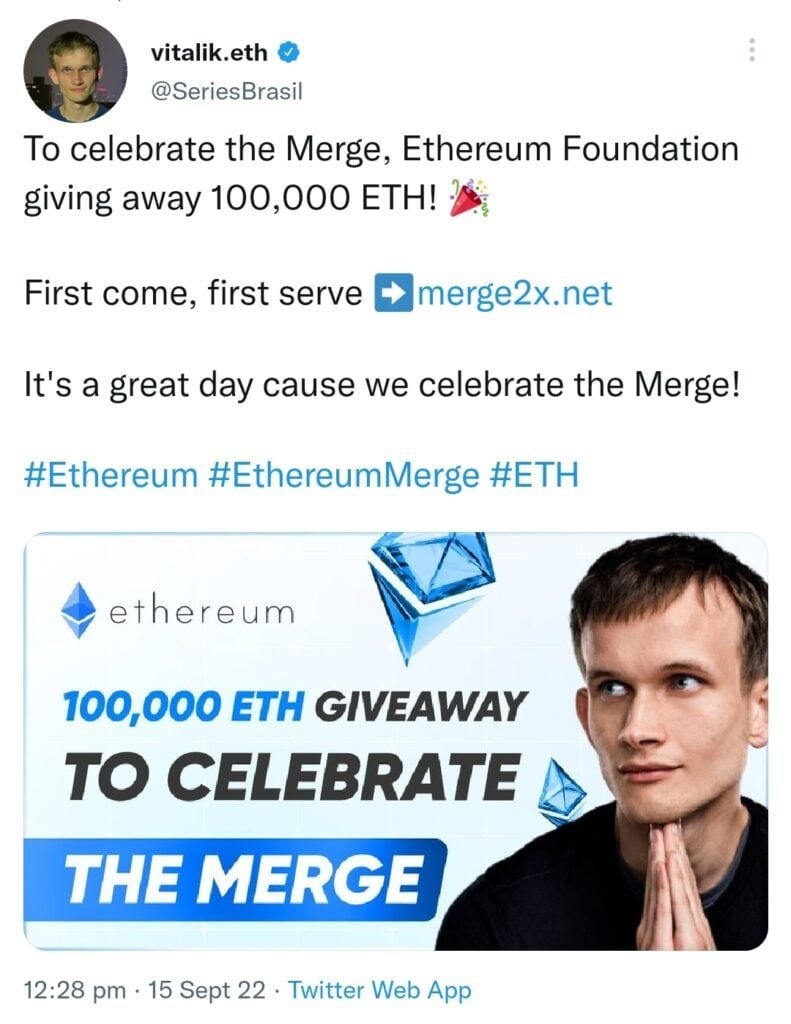 Read also: Robert Kiyosaki says young people want blockchain