More and more BTC machines are being set up all over the world. What does it look like in Germany, Austria and Switzerland if you want to buy Bitcoin at one of the machines?
Data from coinatmradar.com Bitcoin adoption is continuing to grow. Recently, the number of Bitcoin ATMs installed worldwide has increased to almost 40,000. There is also a positive trend in Germany. Nevertheless, Germany performs rather poorly in an international comparison.
22 new Bitcoin ATMs in Germany
The first BTC machine in the world was installed in Canada in 2013. But what exactly is a Bitcoin machine? Even if you may intuitively think that you can exchange BTC for cash at a Bitcoin ATM ("Bitcoin Automated Teller Machine"), this does not always have to be the case. However, with Bitcoin machines, you can usually buy BTC and even some other cryptocurrencies. In Germany itself, even for regulatory reasons, only the purchase of cryptocurrencies is possible.
Since then, the number of BTC machines has been growing faster and faster. At the end of July 2022, the number then rose to over 39,000.
In Germany, the number of Bitcoin ATMs is according to coinatmradar.com currently at 82. At the beginning of July 2022, there were just 60. According to the July report of the data provider, Germany was the country in which the second most BTC machines were set up last month. Only in the USA there were more installations in July.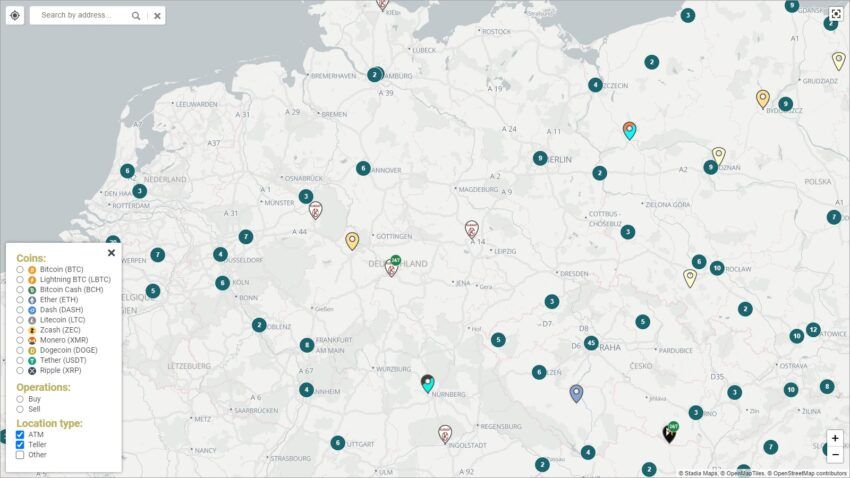 Most vending machines are currently available in Berlin (9). In addition, in 2014, the first BTC Vending Machine set up in Germany. This is followed by Stuttgart (7) and the metropolis of Frankfurt am Main (8), in the Rewe and Saturn recently, BTC machines were set up, where you can also buy Ethereum.
What is the situation in Switzerland and Austria?
Austria and Switzerland
The Austrians seem to be much more crypto-savvy than the Germans. At least, if you look at the number of Bitcoin ATMs. Although the population of Austria is about 90% smaller than that of Germany, there have been significantly more BTC machines in the Alpine Republic for much longer.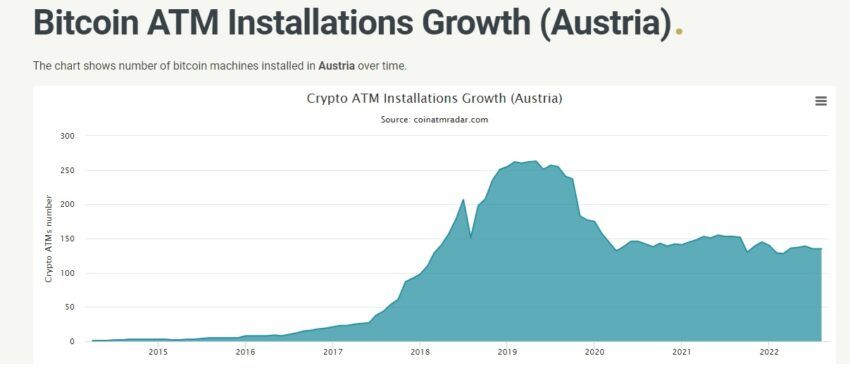 Currently, the number of BTC machines in Austria is 135, which is still more than 50% larger than in Germany. But the number has decreased significantly in the last 2 years: in 2020 there were still about 250 BTC machines in the country. In July, a new ATM was installed in Austria. Most BTC machines are located near Vienna (53), Linz (13), Innsbruck (10), Graz (9) and Salzburg (6).
In Switzerland, with 144 BTC ATMs in all German-speaking countries, you have the best chance of buying Bitcoin at an ATM.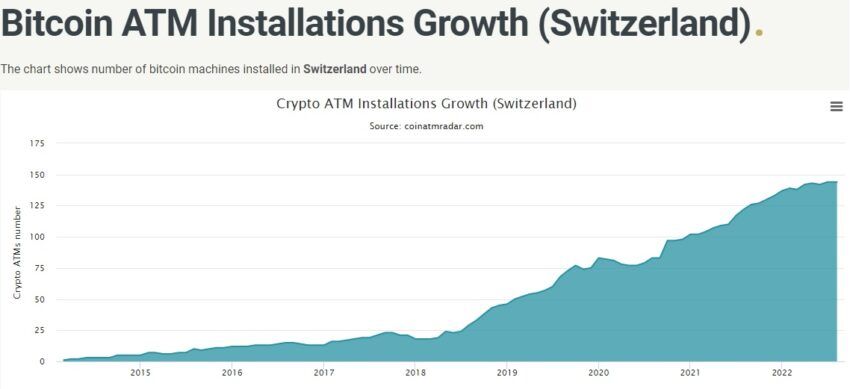 With a population of around 8 million, Austria can certainly be compared to Switzerland, even though the number of vending machines has been steadily increasing since 2020. Most vending machines are located near Zurich (34) and in Geneva (19).
Disclaimer
All information contained on our website is researched to the best of our knowledge and belief. The journalistic articles are for general information purposes only. Any action taken by the reader on the basis of the information found on our website is done exclusively at his own risk.